Just moved to Patna from a metropolitan city and still feel you are in one? No, it's not because of a sudden developmental surge making Patna seem like Delhi, but because of its air pollution level, which overtook Delhi's the previous year, making Patna's air the most polluted in the country.
Why is the idea so alarming?
Delhi has a population of more than 1.9 crores whereas, Patna has a population of nearly 21 lakh. Even then, Delhi has a lower air pollution level than Patna. This signals that something is pretty wrong with the way things are in Patna, don't you think? With pollution in Patna at alarming levels than ever before, it is absolutely essential that we pay attention to the reasons this is happening in our own backyard. Late last year, the Central Pollution Control Board(CPCB) marked Patna as the most polluted city in the country with an AQI(Air Quality Index) score of 391, followed by Muzaffarpur and Greater Noida.
What has caused so much air pollution in Patna?
A lot of factors, when taken into account together, present a rather grim picture of the current scenario in Patna. For sure, the government is to blame for such a fiasco of epic proportions, but are they the sole to blame? I think not, and in today's blog, we will talk about the different factors that went into making Patna number 1 in a not-so-esteemed list. So without much ado, let's raise the topic to public debate amongst Patnaites and think out different ways we can tackle the rising air pollution level in Patna.
City Buses and Autos
With the ever-increasing population in Patna, more and more of the common folk are using the city bus and auto transport system. However, they are not fitted with engines that curb air pollution as is the industry standard in the automobile industry and lack supervision for such measures to be put into effect.
No dustbins on streets
Ever throw out the wrapper of something you just ate on the streets? Of course, you have. Sadly, none of us reading this blog can say otherwise. And this is not only due to the laziness of the townsfolk, but instead, the lack of proper waste disposal system in the city. In every other town you visit, you see dustbins on street corners, whereas here in Patna, you see just the garbage. In place of dustbins, there are huge vacant spaces on the side of a busy street, say Boring Road where all of the localities waste is accumulated. This practice needs to change, and soon, if we are to salvage anything of our beloved city and lessen the pollution in Patna.
Lack of human decency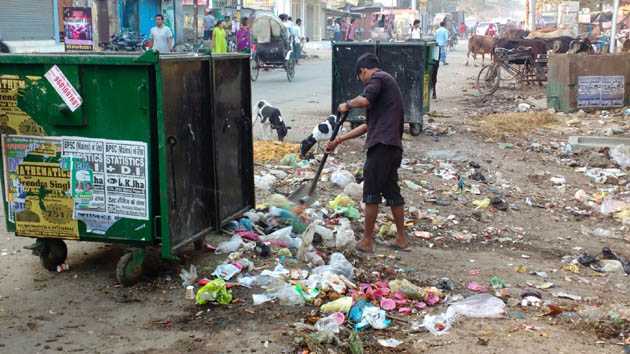 I am sure you have seen people peeing in unoccupied spaces on the street, or tossing over their entire week's garbage in one. This utter lack of human decency and etiquette have robbed our once great city of Patna of its heritage and beauty. Where once the great kingdom of Patliputra reigned, now feet wide sewage water seeps into the ground. As we move towards a brand new year, let's hope that we as people can change our attitude towards ourselves and the city.
With all the factors discussed above, we think the way ahead is pretty clear. We need to change, and now, if we are to save our city from the brink of disaster and work towards decreasing the air pollution level in Patna. There does seem to be a ray of hope for us though, with the Metro coming to Patna soon!
It is sure to lessen a lot of foot and auto traffic in the city leaving room for the higher growth potential of the population as well as lessening the air pollution level in Patna. So even though the situation seems bleak as of now, there is a ray of sunshine, hope for the future.
Also, with organizations like the Prakashoday Foundation who help clean the city streets and help take care of the unfortunate, there is still a ray of hope for the future. So we fervently hope that this rings true, and with the help of people like you and me, we can solve this crisis as soon as possible to provide a better home for the coming generation.
Feel free to comment down below with your thoughts and suggestions about how we can counter the surge in pollution. To read more of our blogs, click here. Cheers!